Het wil wel eens voorkomen dat Outlook niet wil starten.
Outlook is niet netjes afgesloten of er is corruptie ontstaan om een andere reden:
schijf defect
geheugen defect
virusscanner
Vaak met een foutmelding die lijkt op 0x80040600: MAPI_E_corrupt_store of 0x8004010a: MAPI_E_OBJECT_DELETED.
De cache legen van de Outlook connector kan helpen. Het voordeel is dat alle instellingen behouden blijven.
1. Sluit Outlook af voordat je naar de volgende stap gaat.
2. Klik Start -> Configuratie scherm -> e-mail -> kies het profiel waar uw HTTPS Kerio account in zit -> kies e-mail accounts -> dubbel klik op het account.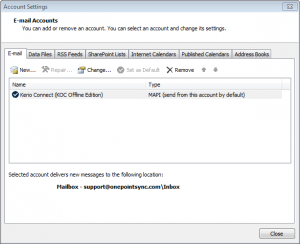 3. Je ziet nu het HTTPS Kerio connect configuratie scherm.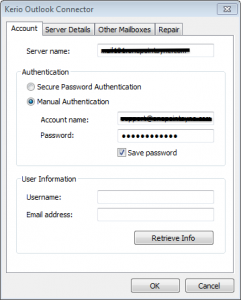 4. Kies de Repair of reparatie tab en klik op Empty of Legen onder Cache legen.
Let op!
De complete mailbox wordt opnieuw opgehaald evenals de agenda, contacten en taken. Dit kan even duren.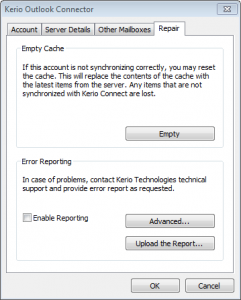 5. Start Outlook opnieuw op. Niet schrikken als alles leeg is, dit wordt vanzelf weer hersteld naar de oude staat. Dat kan even duren afhankelijk van het formaat van uw account.
Als outlook nog niet start, neem dan contact op met uw computerbeheerder. Er is dan waarschijnlijk iets anders aan de hand.