Over time, the Kerio logs become larger. You can (periodically) empty logs with these instructions.
Log into the Kerio administration interface and navigate to 'Logs' (the last option in the sidebar);
Click the log you want to empty (Config, Debug, Error, Mail, Operations, Security, Spam, Warning, Audit). In general, the mail log is the largest;

Right-click in the middle of the logbook on the right;

Click 'Clear log' to clear the log immediately. Click 'Log Setting...' if you want to periodically empty the log.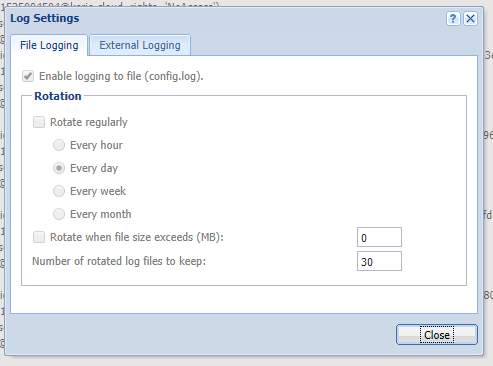 Log settings in Kerio Connect
Follow these instructions if you want to periodically empty the log:
Enable "Regular rotation" by ticking the checkbox. Select here how often the log should be emptied;
You can empty the log only periodically, and in addition to the periodic emptying, when the log exceeds a certain number of MB. To do this, tick the checkbox "Rotate when file format is larger than (MB):" and enter the amount of MBs;

As soon as a log is periodically emptied (rotated), it is archived but the visible log is emptied. To prevent these logs from being archived, set "Number of rotated log files to keep" to 0 or to a higher value to save multiple copies