Een VPN (Virtual Private Network) zet je op naar een eindpunt (VPN server). Wellicht is een VPN het eenvoudigste voor te stellen als een tunnel die je maakt tussen jouw PC en het eindpunt. Alles wat door die tunnel gaat is versleuteld. Zelfs als de website die je benaderd niet versleuteld is.
Met
Kerio Control
is het eenvoudig een VPN op te zetten. Daarvoor gebruik je de VPN client van Kerio. Dat is software die je installeert op je PC waarmee je in een paar klikken een VPN opzet. Voorwaarde is dat je een eindpunt hebt voor je VPN. Je kunt een Kerio Control einpunt
huren
, bijvoorbeeld wanneer je vooral een vast IP-adres wilt hebben of veilig wilt internetten, of een server opzetten met Kerio Control in het datacenter of op uw kantoor.
Stap 1
Download de VPN client:
Mac-Apple
Stap 2
Installeer de client
Stap 3
Je hebt de volgende gegevens nodig voor het opzetten van een VPN:
De naam van het eindpunt/VPN server
Uw inlognaam
Uw wachtwoord
Mist u een van deze gegevens? Vraag ze op bij de beheerder van de VPN server.
Stap 4
Vul de gegevens in zoals in het onderstaande voorbeeld. Uiteraard met de gegevens zoals u ze ontvangen hebt: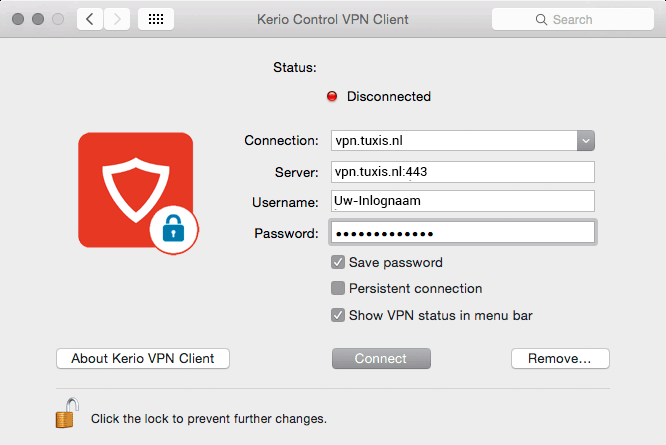 De VPN client start automatisch wanneer u zich aanmeld.