U kunt bestanden synchroniseren met uw PC. U kunt er echter ook voor kiezen om de bestanden direct te benaderen zonder dat deze op uw PC staan.
Het nadeel: Het werkt alleen als u een goede internetverbinding hebt.
Voordeel: U hebt geen bestanden op uw PC of laptop staan. Handig bij verlies of diefstal. Het kost ook geen schijfruimte.
Ga als volgt te werk:
Klik met rechts op "Deze PC" en kies "nieuwe netwerkverbinding maken"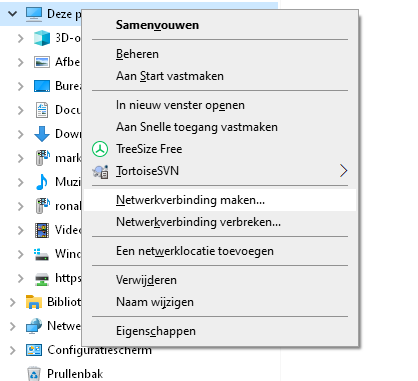 Kies de gewenste stationsletter.
Vul bij Map in: 
https://naam.bestandonline.nl/remote.php/webdav
waarbij u naam vervangt voor uw bestandonline naam of zelfs naam.bestandonline.nl vervangt voor het adres van uw instantie wanneer deze op uw eigen naam draait.
Ze een vinkje bij "opnieuw verbinding maken bij aanmelden" en bij "Verbinding maken met andere referenties"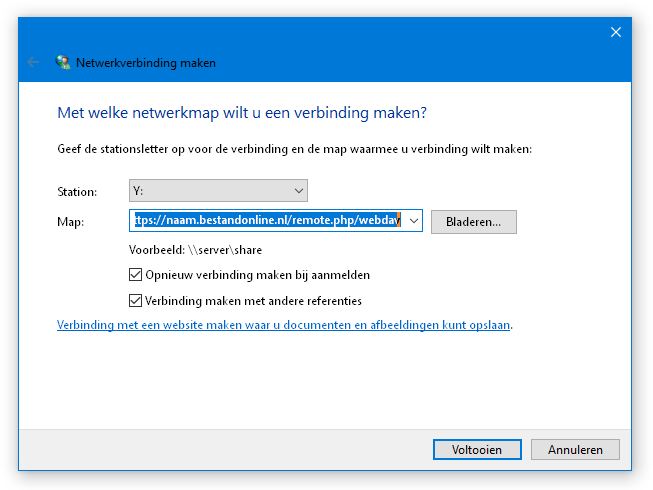 Klik op "Voltooien" en u bent klaar.