We gaan ervanuit dat je een
https://dadup.eu
account hebt of gaat bestellen. Je moet een bucket aanmaken. Daarvoor kun je
Dragondisk
gebruiken.
In de WHM console klik je op Back-up configuratie. Scroll naar beneden voor de instelling "additional destinations"
Omdat daDup.eu compatible is met Amazon S3 kun je kiezen voor Amazon S3 als Destination type. Klik daana op "Create new destination"

Geef de destination een naam. Selecteer ook "transfer system backups to destination". Verkeer naar daDup.eu is versleuteld. Het is dus veilig om die te selecteren)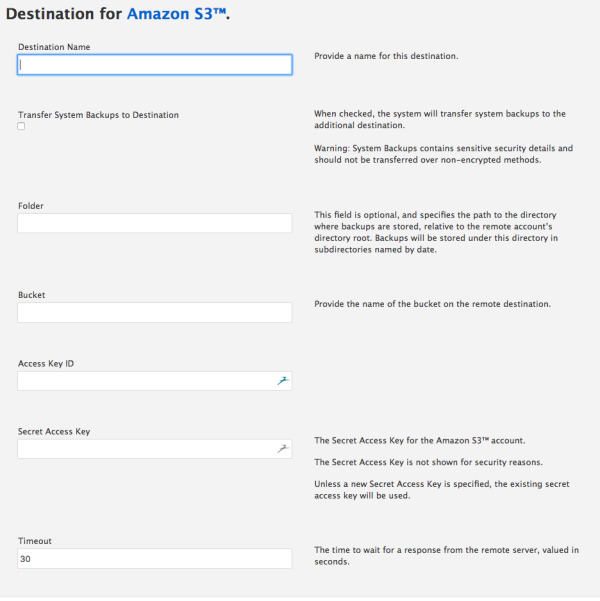 Vul de naam van de bucket in die je aan het begin hebt gemaakt en de access key en scret key die je kunt vinden in
https://admin.tuxis.nl/
Klik op save and validate destination.
Aangenomen dat je alles goed gedaan hebt verschijnt hij nu als additional destination aan het einde van je back-up configuratie. Klik op Save Configuration en je bent klaar.
Back-up gaan nu automatisch naar daDup.eu wanneer ze klaar zijn. Je kunt een test draaien en met Dragondisk kijken of het ook gelukt is.
Je kunt ervoor kiezen de back-ups ook op de server te bewaren zodat je ze snel kunt herstellen. Als je ruimte genoeg hebt kan dit natuurlijk nooit kwaad.